It has been tradition of IDEAL since the inception from 1956 to support the Automobile, Defense and Textile Industry with Import Substitute Products. We have been manufacturing products in India with the Technical know – how from best in the class manufactures in the world and developing products in house with the commitment from team of technocrats.

We work hard so you can work smart". We believe that the business's ability to stay connected, to collaborate and meet across borders will make the difference. Ideal not only depends on its legacy of sixty years, but works closely with renowned OEMs and textile mills. Their inputs and in-house R&D enables Ideal to meet and surpass the industry expectations. Ideal is committed to have word class practices in every aspects of business.
Ideal introduced Universal Bobbin Holders with Internal Brake System and Ball Bearing with the technical knowhow from Whitehead Company of USA. These were specially designed for auto doffing system where the bobbin holders with external brake system cannot be used. Ideal was the first company in India to introduce world class Ring Temple Cylinders in Collaboration with G.Hunziker AG, Company of Switzerland. These temple cylinders helped to produce defect free fabric on automatic weaving machines. Subsequently Ideal supported Ring Spindle manufacturers by manufacturing SPRING BUTTONS with the knowhow from world leader NOVIBRA, Germany.
With vast experience in manufacturing and textile industry, Ideal entered in manufacturing of Yarn Carriers in 1995. Company has been working closely with the leading OEMs and the textile mills technicians. The combined experience helped in meeting the expectations of higher speeds and quality requirements.
Today, Ideal is a leading manufacturer of yarn carriers like simplex bobbins, ring tubes, solid cheese and cones and a wide variety of dye cheese.
The bobbin holder division is completely revamped and introduced the millennium series 2 leg and 4 leg bobbin holders. The unique double suspension systems withstand the upward jerks and hence longer working life.
With special expertise in Tufftride hardening process; Ideal is a leading manufacturer of HiTech lappet hook and proud to be associated with leading OEMs. In 2020, Ideal introduced Ultra-tech lappet hooks with special surface finish.
DEDICATED IN-HOUSE R&D FACILITy

TRUSTED BY RENOWNED OEM'S

RUNNING SUCCESSFULLY INLEADING SPINNING MILLS aCROSS THE GLOBE

UNPARALLELED INDUSTRy EXPERIENCE
RAMANLAL M SHAH - THE FOUNDER
Shri Ramanlal M Shah, founder of Ideal Group of Industries arrived at Ahmedabad in 1942 at the age of 19 with a dream to become a successful businessman and make his mark in the Textile Industry. He established Ideal in 1956. With his steadfast determination, foresight, exemplary business acumen, hard work and perseverance he led the company to become a pioneer and leader of textile machinery spare parts in the country. Under his leadership, Ideal also forayed into defense and automobiles, always maintaining textiles as its core.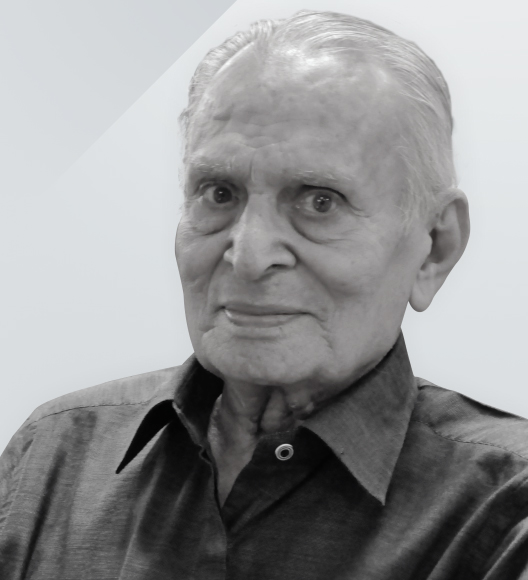 VISION
To be the global leader in manufacturing of innovative and quality products in the segment and provide the customers with world class experience.
MISSION
To provide products of highest standards through long term value creation based on technology and services.
RESEARCH AND DEVELOPMENT
IDEAL focuses on innovation as one of the main pillars for growth. An ongoing research based on new ideas, inventions gives our work force a new direction towards technical progress. We have always worked towards making a difference with our products. Our teams are also focused on providing best products with zero defect services to enable them to be comfortable and secure. IDEAL has dedicated R&D Center at Vatva plant. The Centers closely co-operate and work with various departments to provide the best and the latest in the term of technology and design.
In recognition of our efforts in technology development, IDEAL is recognized as a Research and Development Organization by the DSIR.
TOOL DESIGN & DEVELOPMENT
Tool design and manufacturing forms an important aspect of IDEAL's expertise. The tool room is equipped with the state of the art facilities, all under one roof. The wide range of the latest CNC EDM machines from best of the Japanese make, CNC Lathe machines, Universal grinding machines and several other high precision machines to attain top notch quality tools and moulds. Our experienced and talented team use cutting-edge technology like CREO software's for developing highly precise components of international style and quality.
MANUFACTURING EXCELLENCE
Precision, speed and scalability, are characteristics that best define our technologically sophisticated component manufacturing facility. IDEAL is an expert at manufacturing various injection molded plastic and sheet metal components. We have installed a state-of-the-art component manufacturing facility equipped with American and Japanese injection molding machines by manufacturers. In addition to the latest technology, we also invest in upgrading our testing processes. Our testing facility comprises Coordinate Measuring Machine, Spindle RPM testing etc
QUALITY MANAGEMENT
IDEAL is ISO 9001:2015 certified and quality procedures are integrated into all areas and processes of production. Our setup integrates the workflow under a single roof, covering everything in-house right from ideation to final delivery. Stringent checks throughout the process ensure faster turnaround with the desired quality. Our QMS is subjected to periodic inspection and audits by international certification bodies like ISOQAR
Quality and Excellence is imbibed in the core principles of IDEAL. To be able to demonstrate its capabilities, fulfilment ability, manufacturing strength and other operational efficiencies IDEAL invites all the leading certification agencies to validate the same.
Here are some of the certifications generated over this process.

The primary goal of UDAAN is to increase interest and excitement of high school girls in engineering fields. We believe we can really motivate and encourage them to elevate their inclination and aptitude towards science and engineering and inspire them to choose engineering as their career path. We strive to share out love for science and engineering with the community through UDAAN initiative by organising various career guidance lectures by inviting women engineers and women who run and manage industries. We also wish to conduct science hobby workshops, Industrial visits and do various activities to help them learn scientific and engineering concepts with fun.
10 September 2020
Visit to Community Science Centre (VACSC)
Arranged a visit of 50 girls studying in grades 9 and 10 to VASCSC. The visit was aimed to nurture and direct the girls towards scientific thinking with methods and techniques that make the process of learning an enjoyable and lasting experience.
10 September 2020
Quadrangle at VASCSC
The girls explored the world of Science by themselves through interactive exhibits, models, puzzles that were displayed in the quadrangle area of the centre.
Science & Mathematics Demonstrations
Through the above demonstrations girls got an opportunity to understand and internalise basic concepts of Science and Maths through experiential learning. Innovative, interactive and structured sessions were conducted to make concepts of mass, energy, simple machines, colour, etc. easily understandable.
Science Playground
Girls learnt science concepts while at play in the science playground.
5 August 2019
Industrial Visit
Planned and arranged for an Industrial visit at a plastic processing unit at Vatva, Ahmedabad. Conducted a tour of the shop floor where the girls got to see the Production, Assembly, Quality Assurance, Packing and Dispatch departments.

The girls got to learn how plastic products are manufactured on injection moulding and blow moulding machines.
Career Guidance Workshop
Held a career guidance workshop for young girls at Jyoti School, Ahmedabad. We invited prominent women engineers to visit the school. They spoke to the girls about engineering marvels like Taj Mahal in Agra and the Hindu temple of Akshardham in Gandhinagar and counselled them about the opportunities for women in the engineering field.
10 July 2018
Science Hobby Workshop
Workshop titled 'Science in everyday life' was organised to introduce concepts of engineering to young girls in a practical manner. A competition was held, whereby participants were asked to assemble a simple engineering product.